Warbler Migration at the Aster
Deirdre Murphy & Scott White are proud to announce the completion of their major public art commission titled Warbler Migration. This two year project stands 5.5' h x 25' w and is comprised of over 500 hand-cut and painted aluminum polygons & 30 stainless steel cast Orange Crowned Warblers. Warbler Migration was inspired by this shy species that resides in the Dublin ecosystem and depicts the migratory pattern and constellations by which they navigate. The project was funded by Bay West Development for the City of Dublin, California at the Aster Apartments. 2017
Photo Credits: Daniel Gaines Photography, Matt Faisetty Photography & Ape Tran Studio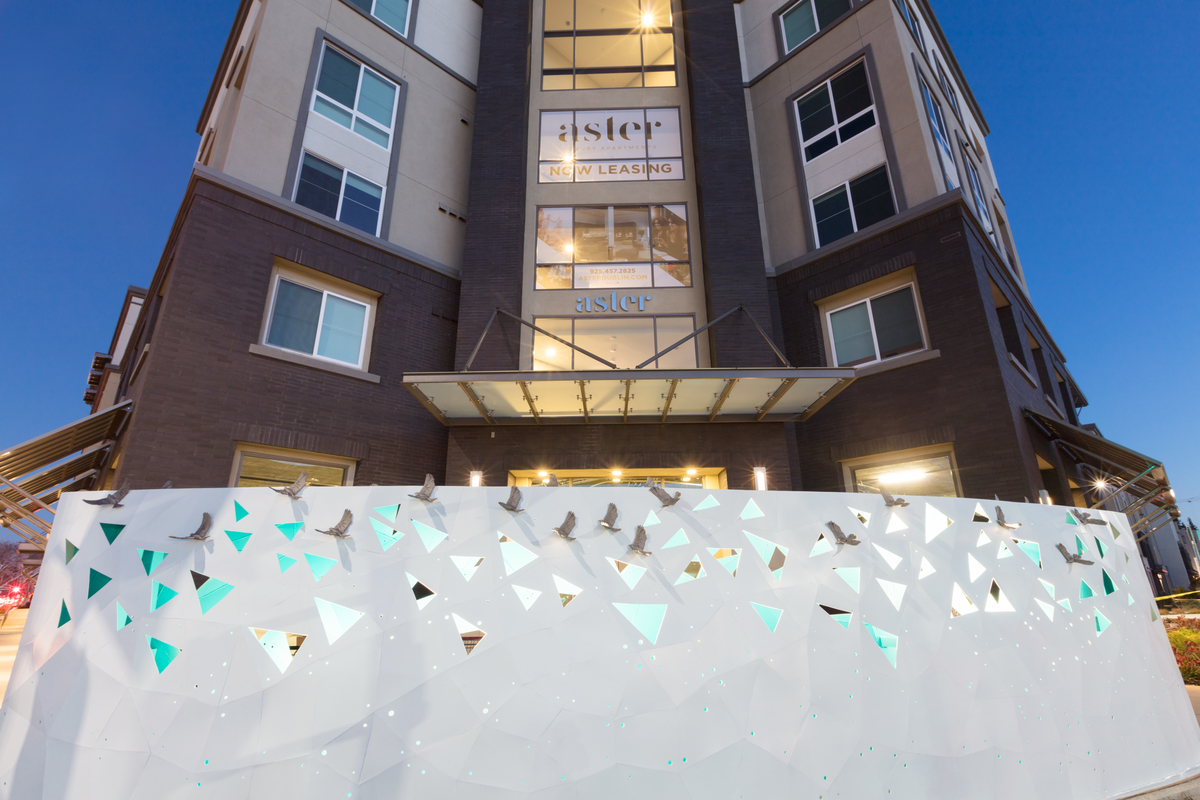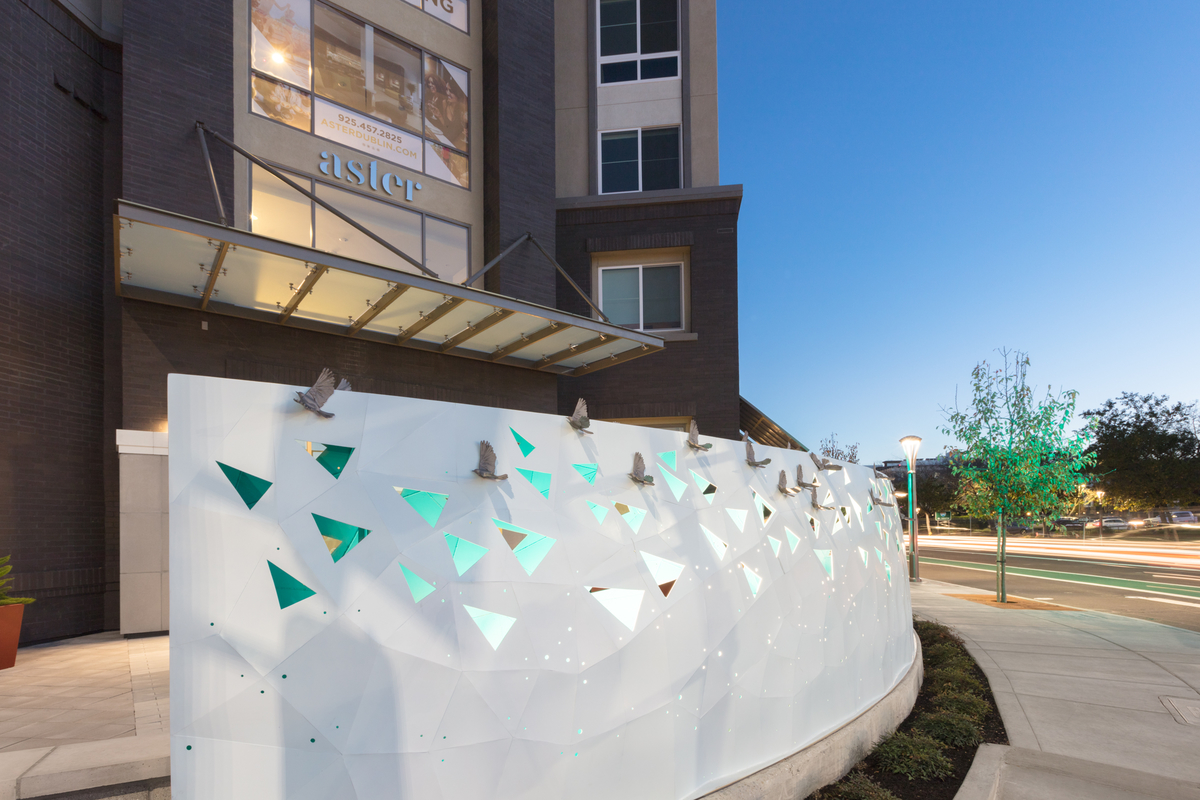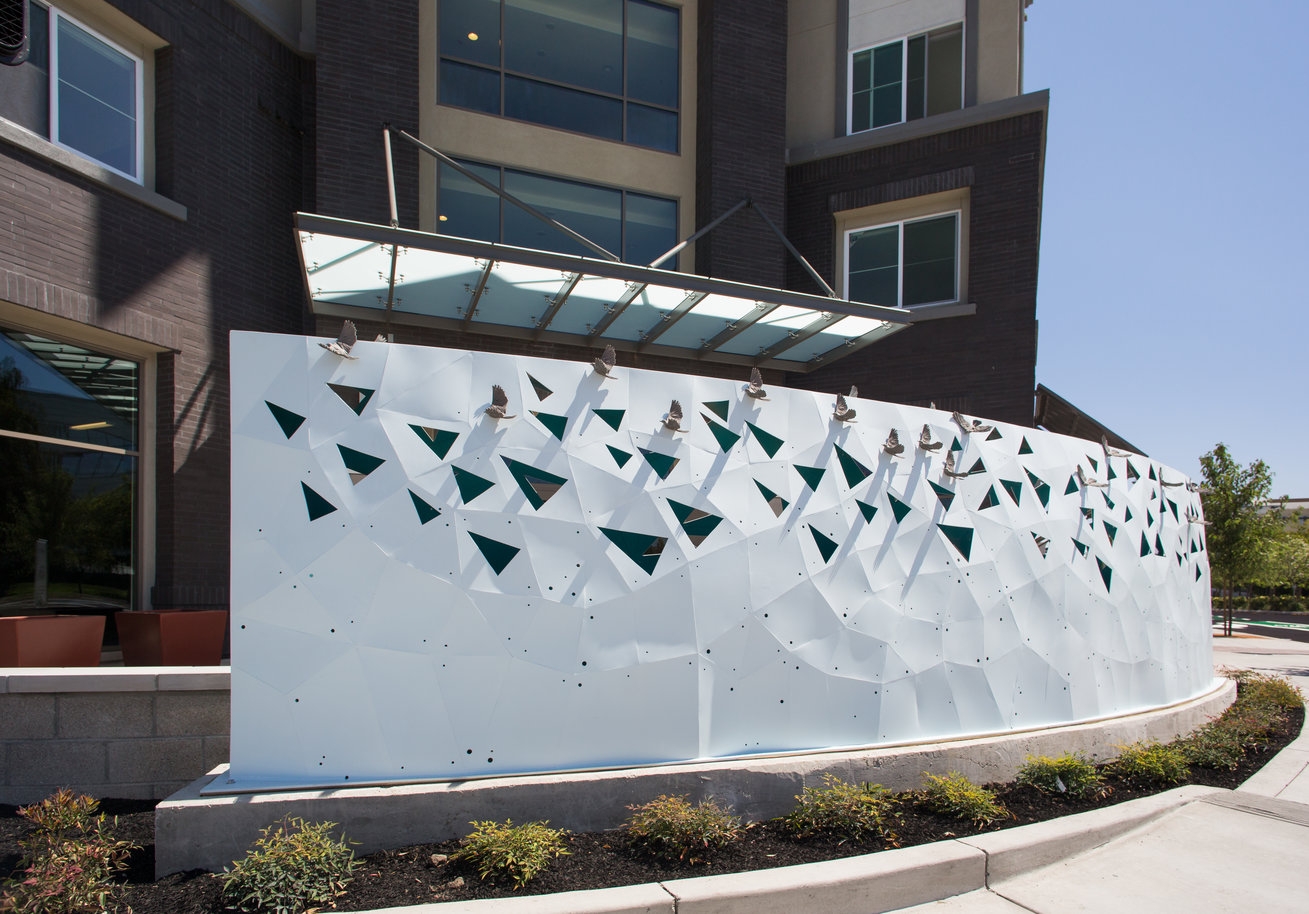 Lots to Learn Playground
The William Cramp Elementary school project, Lots to Learn, (2016) provided the opportunity to research birds that migrate from Latin America up through Philadelphia. The majority of children in South Kensington are from Puerto Rico thus I chose the Baltimore oriole whose migratory flight pattern matches the journey their families have taken. A flock of 140 Baltimore orioles ornament the playground fences while over 180' of the Atlantic Flyway map is painted on the playground. The children learn through art and civic science about the birds in their neighborhood and find strength in their own familial migratory journey.
https://www.linkedin.com/pulse/william-cramp-elementary-school-lots-learn-deirdre-murphy
Sky Paintings
Deirdre Murphy has created a series of four paintings on view at Philadelphia International Airport. The paintings, with their themes of nature and blue skies accentuated with birds and kite-like elements, emulate the exhilarating sense of motion and freedom as one soars through the air. Murphy's color-filled compositions will captive travelers as they ready themselves for their own experiences in flight.
Conodoguinet Creek: A Long Way with Many Bends / Dickinson College Goodyear Mural 2018
Conodoguinet mural design motif is based on the Conodoguinet Creek Watershed of Carlisle, Pennsylvania. Conodoguinet translates from the Native American word meaning "A long way with many bends". Mural artist, Deirdre Murphy was selected as the Dickinson College Goodyear Gallery Mural Artist and Visiting Artist in the fall of 2018. The mural celebrates the beauty of the watershed and the birds of the Carlisle area while raising awareness about local water pollution and threatened bird species. The scattering of color-coded lines is a visual data interpretation of indigenous migratory birds. The small red and green dots signify songbird's feeding and breeding zones. Embedded in the mural is Spencer Fullerton Baird's, bird research from 1840, who was a Dickinson alum, professor and head of the Smithsonian. Murphy collaborated with Dickinson College Art & Art History Department, Biology Department, Environmental Science Department, Center for Sustainability to research and design the mural to be used for academic research with a focus on environmental justice. The hope is to draw conservation attention to life at the banks and within the Conodoguinet Watershed and inspire viewers to a call to action; to protect our environment and species. College. Click here to read an article.